| Posted in:Company News, Copyright
Calendar Photography by Art Peslak
The Intellectual Property Group of Gertner, Mandel and Peslak is proud to share the digital version of our 2014 calendar with photos by Art Peslak – click here.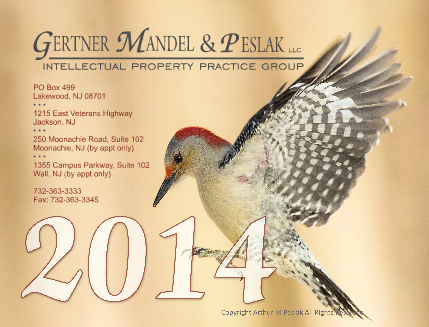 Calendar Photography Copyright by Art Peslak
Our own Intellectual Property attorney, Art Peslak, is the photographer of the birds in this beautiful calendar. Art photographs birds in his home-state of New Jersey and while traveling around the world.
Intellectual Property Law blog posts from www.iplaw-gmp.net. Call 732-363-3333 for an attorney in Patents, Trademarks, Copyrights, & Unfair Competition. Serving NJ, NY, PA for legal, technical & business issues.