| Posted in:Company News, Copyright
Calendar Photography by Art Peslak
The Intellectual Property Group of Gertner, Mandel and Peslak is happy to announce that our 2015 calendar can be viewed online – click here.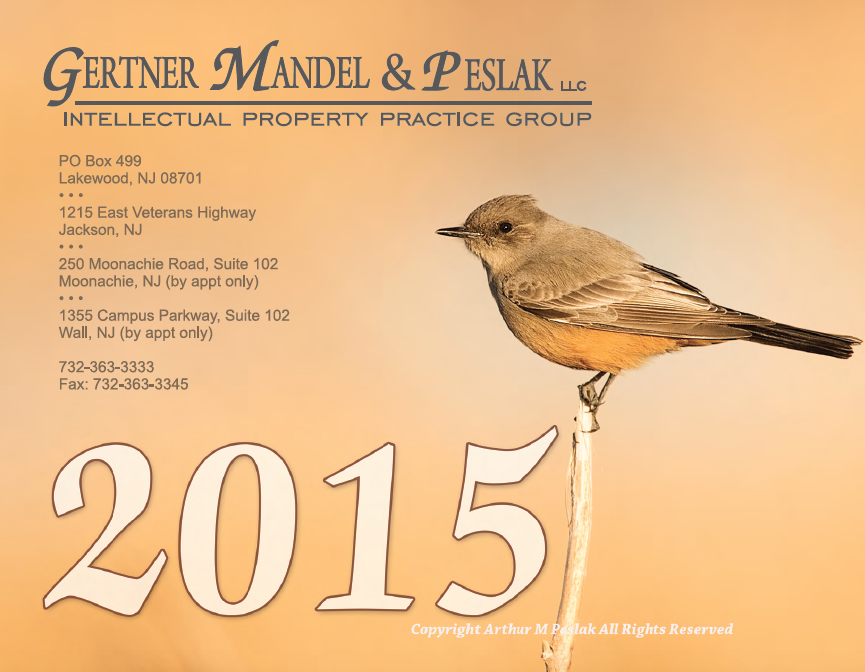 Calendar Photography Copyright by Art Peslak
Our own Intellectual Property attorney, Art Peslak, is the photographer of the birds in this beautiful calendar. Art photographs birds in his home-state of New Jersey and while traveling around the world.  Photos of birds are from New Jersey, New York, Texas, Arizona, New Mexico, and Iceland! Notice that all the photographs have been copyright protected.
Art Peslak is an accomplished nature photographer – familiar with the photography business as well as the intellectual property issues. He is uniquely qualified to counsel clients in this area.
You can still view the 2014 calendar.
JOIN Our Intellectual Property eNewsletter
Contact Us
To receive a free 2015 calendar call 732-363-3333 or fill out our website request form or contact us via our G+ business page.
Intellectual Property Law blog posts from www.iplaw-gmp.net. Call 732-363-3333 for an attorney in Patents, Trademarks, Copyrights, & Unfair Competition. Serving NJ, NY, PA for legal, technical & business issues.